Dryer Exhaust System Cleaning In NYC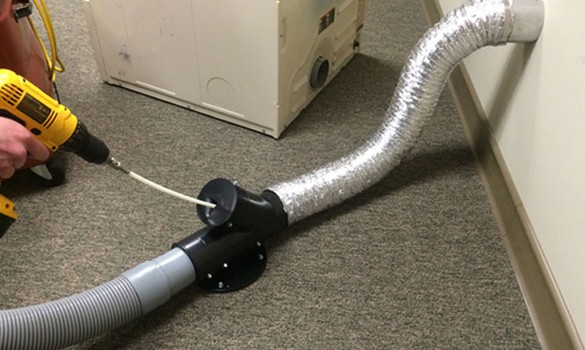 Anyone knowledgeable enough on the dryer system understands that a considerable amount of lint has always been generated, and they required to be cleaned. It is imperative to clean your dryer duct every year. As prevention, they say, is the best medication. It is better to invest more in your dryer vent cleaning than to rely on repairs. If you practice routine maintenance on your appliances such as your dryer, you can make it last longer and avoid many common repair issues. Even the best and most expensive dryer exhausts will eventually require a professional cleaning, so don't wait until the air conditions in your home and building are tarnished- call us today.
Dryer Vent Services
Routine dryer vent cleaning services consist of well trained and experienced hands that can get your duct properly cleaned, irrespective of how hidden any part of it may be. These cleaning establishments have the right tools and equipment that can be able to access all aspects of the duct and clear away any lint buildup. For hard to find blockages we use TV video scoping of chutes vent lines.
A good number of homeowners and building managers can be able to remove any lint build-up from their dryers or ducts adequately. However, some of these lint may be hidden far away from them that it can only take a pro to get rid of it. At such times, the services of a dryer vent cleaning servicemen will be highly needed, if not for anything, for optimum efficiency.
The Chuteplus Way
Chuteplus is the best duct cleaning service Company you can always bet on anytime. At Chuteplus, delivering quality service is our priority. Over time, we have been renowned for our best customer policy. We work as a team. Our dryer vent cleaning service hands are well trained and have been in the business for a while. In a bid to keep up the ever flux tech innovations and cleaning regulations, our servicemen continually undergo regular coaching classes, seminars, and workshops, all aimed at offering the best service to beat to our teeming clients. We provide hvac ventilation and duct cleaning in NYC
We always strive to ensure that you get the services that you deserve. Our quality control personnel keep the servicemen on their tentacles in a bid to provide you with the highest quality and most thorough service. Giving you the best service is our pride!
Saving Cost
If you do sincerely think that dryer vent cleaning services are an expense that you can do without, you're in for a pop-up ride! In these tough economic times, when everyone is tightening their belt, investing in your dryer vent cleaning will yield a good return on investment.
Dryer vent cleaning is a practical way of saving energy. A clogged vent can increase your electric bill. Most homeowners can attest to the fact that the dryer is one of the most expensive appliances to run, and an unclean vent can add even more to that cost. If you want to keep more money in your pocket and stop giving so much of it away to the electric company, have your dryer vent cleaned.
Dryer Vent Cleaning And Fire
And the biggest and most pressing reason to clean your dryer vent annually is to prevent a devastating dryer lint fire. Most of the home fire accidents have been linked to the dryer. The clogging or lint buildup in your dryer can spark off a series of processes that will ultimately lead to a fire accident. This is why it is so important to clean your dryer duct annually.
Routine vent cleaning can forestall a tremendous proportion of dryer problems. Cleaning the lint trap improves airflow in the dryer and permits for optimum functioning of the dryer. Our cleaning techniques will be all you needed and so much more. Get a quote today!